BK Medical prides itself on being at the forefront of intraoperative ultrasound technology. Having the chance to hear, firsthand from healthcare practitioners around the world gives us the opportunity to maintain that edge. We recently spoke with Dr. Martin Kowallik to get his thoughts on using advanced ultrasound in the anorectal surgery space. As the current Head of the Department of Proctology in Magen Darm Zentrum Wiener Platz in Cologne, Germany he is, in our humble opinion, an authority worth hearing from.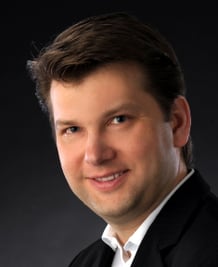 Having accomplished his surgery and proctology training in Germany, between 1999 and 2002 he improved his skills on the field of surgery and radiology in Germany, Poland, Spain, and the USA. Since 2007 he was active as Assistant Surgeon in the Department of Coloproctology of the St Antonius St Josef Hospital in Wuppertal where he finished his proctology training. Since 2009 [he has been] senior physician of the department with realm three-dimensional [endoscopic ultrasound] (EUS). In 2012 Dr. Kowallik changed to his current position to Head of Department in Magen Darm Zentrum Wiener Platz [in] Cologne, Germany. He is the editor of the first "Atlas of the 3D EUS of the pelvic floor" in German language, co-author in "Proctological Surgery," and author of other publications.
Since 2010 he regularly organizes certified advance training "3D endo-sonography of the pelvic floor - course on the device". The elaboration of the contents for these courses results from collaboration with well-known international experts on the field of pelvic floor and EUS. These workshops help to sensibilize medics involved in pelvic floor treatment for the deep consequences of their activities, and to prevent any possible mistreatment due to poor diagnostic use. [In] 2018 he developed a novel system and application to perform measurement on [the] pelvic floor by using transperineal ultrasound.
What is your professional history with advanced ultrasound imaging? When were you introduced to this technology and how do you use it today?
My first experience with 3D ultrasound was around 2009. I had the possibility to visit Prof. A. P. Wieczorek, an internationally renowned specialist, and had the opportunity and honor to learn from him. I was so impressed by the possibilities and potential of this examination method for my daily work, that I have been working on my examination techniques ever since and try to develop and improve them every day. This in my eyes [is a] revolutionary examination technique, not only did [it] change my view on numerous proctological diseases, but [it] also led to profound changes in my therapeutic approaches in my own patients. The techniques used to date did not allow a clear limitation of the pathological changes and made some treatments improvised and confusing. This is currently changing, which makes this area so exciting and interesting. This applies not only to coloproctology, but also to the increasingly interdisciplinary pelvic floor treatment.
What clinical benefit does a dynamic ultrasound exam provide you and your patients? How does it compare to MRI?
In daily practice it seems that only a multidisciplinary view of pelvic floor disorders makes sense when identify[ing] and car[ing] for combined pathologies. Another controversy is the [MRI] examination position. The changes in pelvic floor are obviously manifested due to gravity. The unphysiological [MRI] examination position sometimes leads to erroneous examination results and negatively influences the outcome of therapy.
A standardized examination of the entire pelvic floor with the transperineal-performed sonography can provide a possible way out. We also presented an alternative measurement method for the simultaneous assessment of all three compartments which allows a meaningful diagnosis of all perineal disorders. In this method we see a valuable way to improve pelvic floor failure diagnostics. In addition, after corrective interventions or therapies, the results can be assessed and compared very easily.
Do ultrasound devices that offer customized procedural features provide benefits to facilities like yours? Why?
Of course. We use 3D ultrasound in our daily work to asses the numerous patients with proctological and all pelvic floor disorders as well. In today's world with interdisciplinarity requirements, these new diagnostic tools should be adapted to provide the maximum of preoperative diagnostic safety for the affected patients and additionally for postoperative evaluation of the therapy. By a simple comparison of the pre- and postoperative findings, success can be confirmed objectively. In this way, any necessary corrections can be made early enough, and this finally leads to an improvement in operational activity. This finally is a real advantage for us and our patients.