Whether you are performing open or minimally invasive surgery, intraoperative ultrasound (iUS) provides real-time visualization when you need it most.
Featuring the most advanced imaging technology ever from BK Medical, bkActiv is an intraoperative ultrasound solution that supports critical decision-making at every step of your procedure.
Support Critical Decision-Making at Every Step of Your Hepatic Resection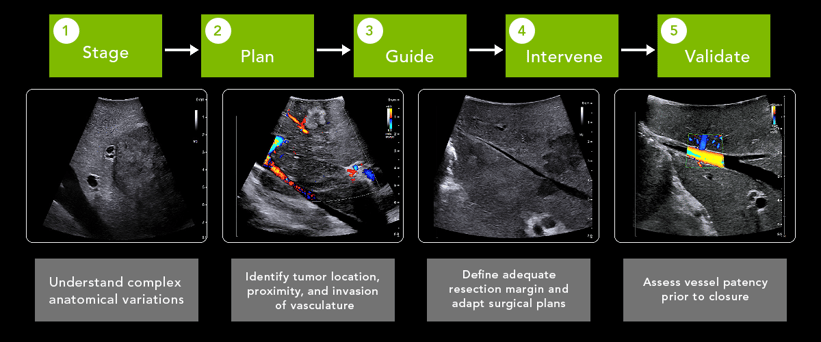 Let us take a look at how active imaging can help in the beginning, middle, and end stages of hepatic resections whether performed open, laparoscopic, or robotic-assisted.
During the staging process of hepatic resections, intraoperative ultrasound helps surgeons visualize complex anatomical structures and variations.
During the planning process of hepatic resections, the solution helps surgeons visualize and identify intrahepatic vasculature, visualize tumor location, and visualize the relationship of the tumor to critical vascular structures.
Through the guiding and intervention phases of hepatic resection surgery, iUS helps surgeons confirm tumor borders and determine resection paths.
Lastly, during the validation stage of hepatic resection surgery, intraoperative ultrasound helps surgeons assess completeness of resection and visualize blood supply to the remnant liver.
Activating real-time intraoperative ultrasound with bkActiv can provide more confidence to critical decision-making for HPB and general surgeons. Step into the new era of intraoperative ultrasound with bkActiv.