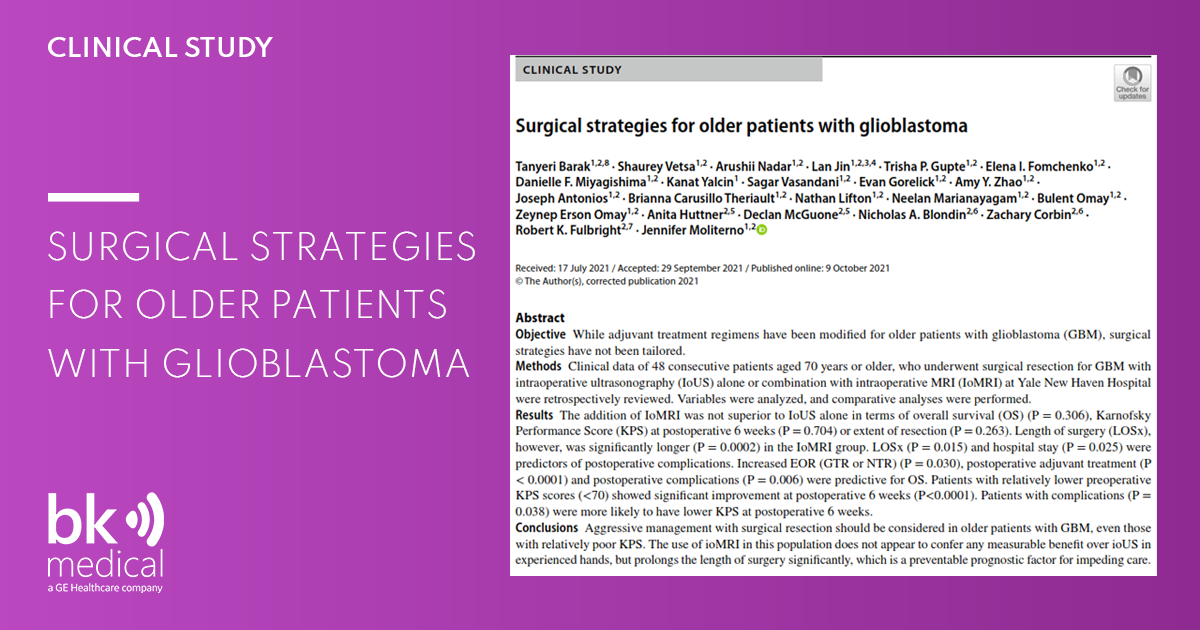 New Year, Same Challenge.
More than one-quarter of glioblastoma (GBM) patients are aged 70 or older at the time of diagnosis. While increased extent of resection (EOR) utilizing advanced intraoperative imaging modalities like intraoperative MRI (IoMRI) and intraoperative ultrasound (IUS) is known to improve overall survival (OS) in older GBM patients without post-operative complications, the challenge of reducing length of surgery remains. While IoMRI is the gold-standard advanced imaging modality available to younger GBM patients, surgeons may think twice about adding to surgical time when an elderly patient is on the table. Prolonged surgical time is a known independent predictor of complications in elderly patients undergoing craniotomies.
The Journal of Neuro-Oncology published a study in 2021 which found that the addition of IoMRI in the surgical course of the over 70-year-old GBM patient population conferred no measurable benefits to the EOR and subsequent OS compared to IUS use; however, significantly added to the length of surgery.
Learn how Active Imaging from BK Medical can assist in achieving increased EOR for this specific patient population without adding operative time and post-operative complications to their surgical course. Here's to 2023 being the year in which more elderly GBM patients head into post-operative adjuvant treatment with more options to consider, fewer complications, and increased EOR to help them on their journeys. Read the full study here.