Neurosurgeons need clear, real-time imaging during neurosurgical and spine procedures. It is important to have a solution that offers visual guidance to support decision-making at every stage of the procedure.
This is the real-time active imaging that you get with bkActiv. Featuring the most advanced imaging technology ever from BK Medical, this comprehensive solution provides reassurance for critical decision-making in neurosurgical and spine procedures. This is the new era of intraoperative ultrasound (iUS).
The Power of iUS for Decision-Making
The statistics below show just how powerful intraoperative ultrasound can be in a variety of neurosurgical and spine procedures.
Skull Base Procedures Spine Procedures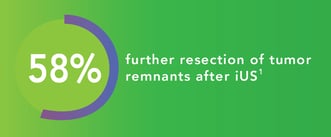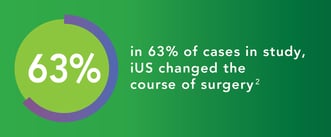 Neurovascular Procedures Pediatric Procedures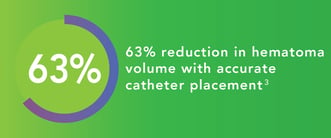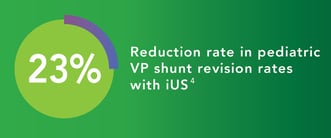 Let us take a closer look at some of the features bkActiv offers. What value do the features bring to the neurosurgeon?
Enhanced Visualization
bkActiv's advanced algorithms allow for immediate imaging by automatically optimizing the image for the brain and spine. New algorithms show greater details around lesion borders and at larger depths. bkActiv can also be digitally integrated with Brainlab Navigation for a true plug and play experience. Brainlab Ultrasound Navigation Software enables real-time overlay of intraoperative ultrasound imaging on preoperative MRI/CT, assisting with image interpretation and orientation. The digital transmission ensures no loss of intraoperative ultrasound image quality and can help neurosurgeons navigate procedures.
Customizable UI Tailored to Neurosurgeon Needs
The intuitively simple, glass user interface (UI) on bkActiv lets users start with a simple UI to see only what they need. Customize by adding or removing controls to decide which features to use and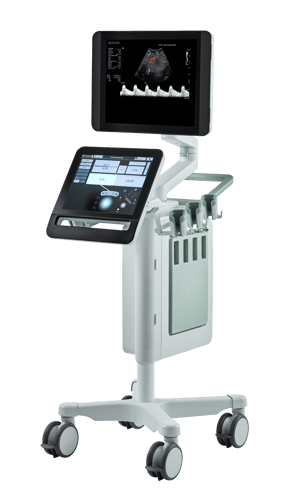 create customized user profiles tailored to each specific user's needs.
Increased Surgeon Control and OR Staff Confidence
bkActiv also offers enhanced neurosurgeon control with the Smart Button™ on neurosurgical, sterilizable transducers. The remote control allows the neurosurgeon to control the image in the sterile field, from where they stand. Additionally, instructional videos are viewable directly on the system which can help increase surgeon and OR staff confidence and competency.
Flexibility in System Placement
bkActiv enables real-time intraoperative imaging that fits into small ORs to provide flexibility in system placement. Mounted on an extendable, flexible arm, the screen faces you where you stand and the monitor can be turned to view images in portrait or landscape orientation.
Solutions for a Variety of Procedures
Different procedures require different toolsets. BK Medical offers a complete set of dedicated, sterilizable neurosurgical transducers designed for all access types: craniotomies, burr holes, minimally invasive surgeries, and incisions in the spine.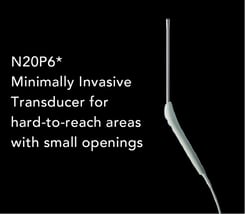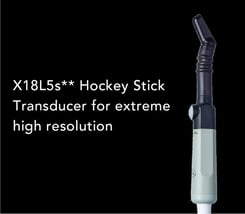 Minimally Invasive Transducer (N20P6)* Hockey Stick Transducer (X18L5s)**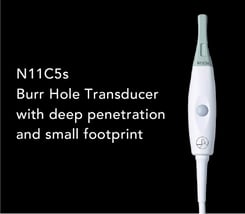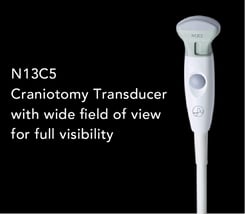 Burr Hole Transducer (N11C5s) Craniotomy Transducer (N13C5)
Advantages Over Other Imaging Modalities
Intraoperative ultrasound offers advantages over other imaging solutions in the OR. Unlike intraoperative CT (iCT), iUS does not involve ionizing radiation and it is the only real-time intraoperative imaging that does not interrupt workflows like scanning with iCT and intraoperative MRI (iMRI). In one study, it was found that intraoperative ultrasound also has comparable gross tumor resection rates to iMRI.7
The only real-time intraoperative imaging modality

Scan instantaneously and repeatedly with iUS, while iCT and iMRI scans interrupt the surgical workflow5 and require a set scan time.

Minimum radiation hazards to the patient

Unlike iCT, intraoperative ultrasound does not involve ionizing radiation.6

Comparable gross tumor resection rates to iMRI

In a recent article, iUS has demonstrated gross total resection (GTR) for High Grade Gliomas (HGG) that is not statistically different from iMRI and 5-ALA.7
Whether you are a regular user of intraoperative ultrasound or new to iUS, the bkActiv solution will help bring reassurance for decision-making in all subspecialties of neurosurgery. Click here to learn more about bkActiv for neurosurgery and spine.
---
Alomari, A., Jaspers, C., Reinbold, WD. et al. Use of intraoperative intracavitary (direct-contact) ultrasound for resection control in transsphenoidal surgery for pituitary tumors: evaluation of a microsurgical series. Acta Neurochir 161, 109–117 (2019). https://doi.org/10.1007/s00701-018-3747-x. https://link.springer.com/article/10.1007/s00701-018-3747-x#citeas

Harel R and Knoller N. Intraoperative spine ultrasound: application and benefits.

MISTIE III A phase III, randomized, open-label, 500-subject clinical trial of minimally invasive surgery plus rt-PA in the treatment of intracerebral hemorrhage. MTI-M3 Mechanisms of Tissue Injury in MISTIE III Rebleeding and inflammation: Predicting risk of excessive bleeding in minimally invasive surgery and inflammatory marker evaluation. National Institute of Health Research (NIHR, UK)N. (2015, April 14), Retrieved March 10, 2021, from https:// clinicaltrials.gov/ProvidedDocs/46/NCT01827046/Prot_003.pdf

Crowley RW, Dumont AS, Asthagiri AR, et al. Intraoperative ultrasound guidance for the placement of permanent ventricular cerebrospinal fluid shunt catheters: a single-center historical cohort study. World Neurosurgery. 2014;81(2):397-403. doi:10.1016/j.wneu.2013.01.039

Coburger J, Nabavi A, König R, Rainer Wirtz C, Pala A. Contemporary use of intraoperative imaging in glioma surgery: A survey among EANS members. Clinical Neurology and Neurosurgery 163m 133-141 (2017).

https://www.fda.gov/radiation-emitting-products/medical-imaging/ultrasound-imaging

Mahboob S and Eljamel M. Intraoperative image-guided surgery in neuro-oncology with specific focus on high-grade gliomas. Future Oncology 13 (26) (2017).
*
The Minimally Invasive Transducer N20P6 has not been licensed by Health Canada or CE-marked
**
Use of the Hockey Stick Transducer X18L5s for intraoperative (neuro) has not been CE-marked