Dr. Lieschen H. Quiroz is Division Director of Urogynecology at the University of Oklahoma Health Services Center (OUHSC) and works as part of a multidisciplinary team that treats complicated pelvic floor disorders. With 11 years of experience in pelvic floor ultrasound, Dr. Quiroz is an internationally known expert in pelvic floor imaging.
"Using ultrasound during the examination allows me to assess symptoms and examine patients in real-time to compare with previous clinical findings. The patient can leave the consultation with important information and an updated care plan that can help them move forward with treatment," Dr. Quiroz explains.
The OUHSC serves as a tertiary care center, where patients are treated for conditions such as complex pelvic organ prolapse, urinary incontinence, and complications from mesh procedures. Dr. Quiroz shares a case to explain the use of ultrasound in her work.
Patient Presents with Extreme Pain
"The patient presented with pelvic pain. She had previously undergone treatment for prolapse and incontinence and had an anterior mesh and a sling placed for urinary incontinence. After recurrence of urinary incontinence, she had another sling placed. 10 months after her last procedure, she felt a sudden onset of pain that felt like a ripping sensation in the vagina when walking. She suffered from pain for two years.
The pain continued constantly afterwards, and the patient described it as similar to childbirth in intensity. She said it felt like someone was trying to "pull her insides out." The constant pelvic floor pain worsened when the patient was standing or walking for more than 15 minutes and sometimes even when sitting. Bedrest was the only way to relieve the pain."
The patient's mesh had been revised twice, and these revisions had not relieved the patient's symptoms. Operative reports from the revisions were unavailable.
"The patient presented to our clinic for a multicompartment ultrasound examination. We started the exam with a 2D transperineal evaluation for an overview of the patient's pelvic floor anatomy. While scanning, we saw the presence of two slings in the coronal view." (See fig. 1)
Dr. Quiroz found dense scarring in the anterior vagina and periurethral areas. A sharp ridge was palpated towards the right obturator foramen, yet no mesh was visible.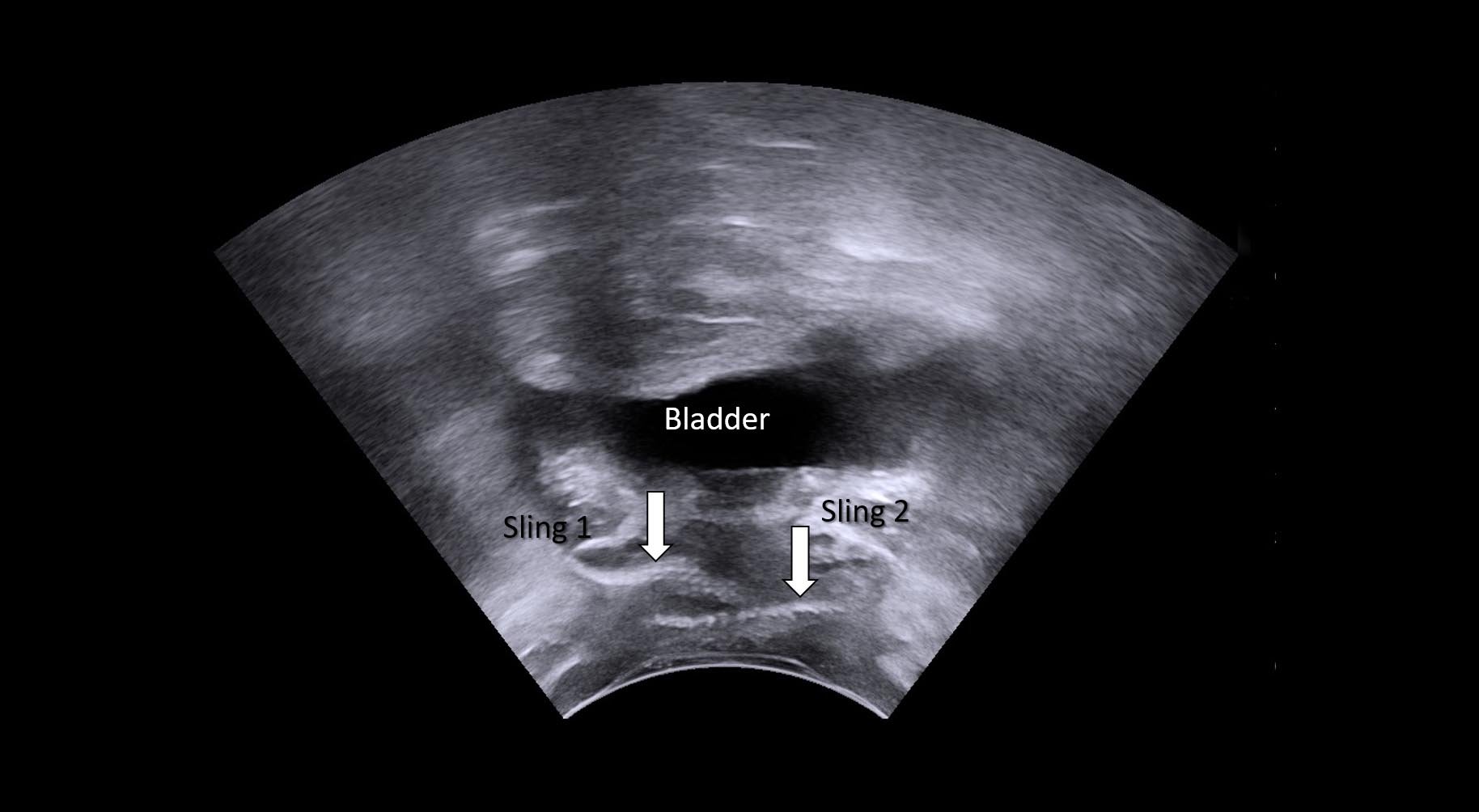 Fig. 1. Coronal view. Two slings
"As the next step of the pelvic floor ultrasound exam, we used the endocavity transducer and inserted it approximately 6 centimeters (2.4 inches) into the vagina. We obtained a 3D data acquisition with the transducer in a neutral position. The sagittal view of this 3D cube confirmed the presence of an anterior mesh, a posterior mesh, and two obturator- type slings." (See fig. 2)
"During repeated ultrasound scans, we could see that the area of tenderness was anteriorly above the bladder neck and bilateral obturator foramen areas. The posterior scarring and mesh were palpable, but not significant sources of pain on examination."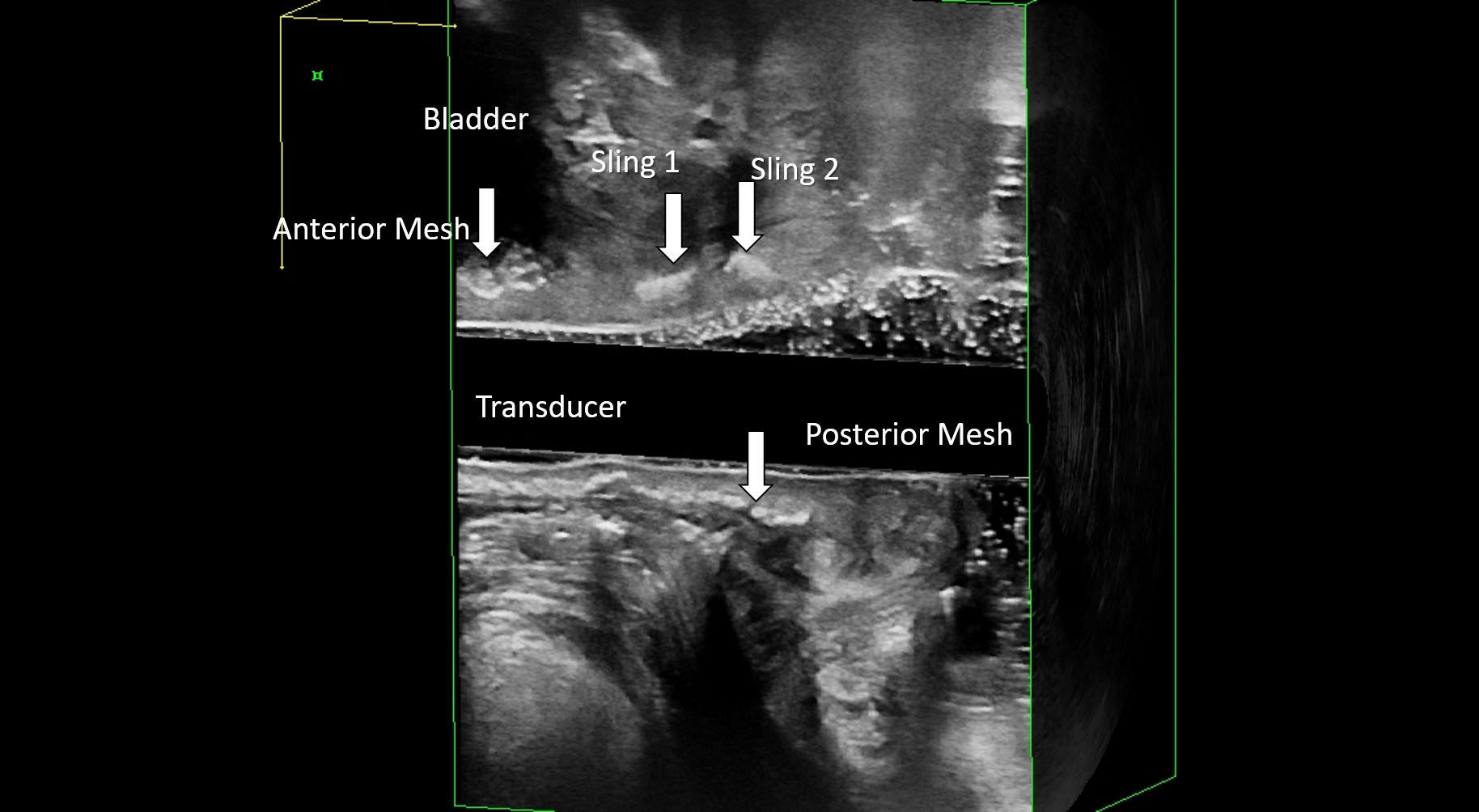 Fig. 2. 3D dataset. Two slings and two meshes
bkSpecto Confirms Location of Mesh
The 3D ultrasound scanning proved valuable in confirming the presence and location of the meshes and slings. She concluded that the anterior area of tender scarring was a remaining area of mesh, and she was able to clearly visualize the two slings. Their location correlated with the areas of reproducible pain on re-examination.
"We visualized and mapped the precise location of the mesh in relation to anatomical landmarks. Without 3D ultrasound scanning of the anterior, middle, and posterior pelvic floor compartments, it would have been much more difficult to make any conclusions about the locations of slings and meshes. I used the image on the screen to explain the exam results to the patient. With the detailed information from this exam, she was able to leave the of office with a plan for surgical removal of the meshes."