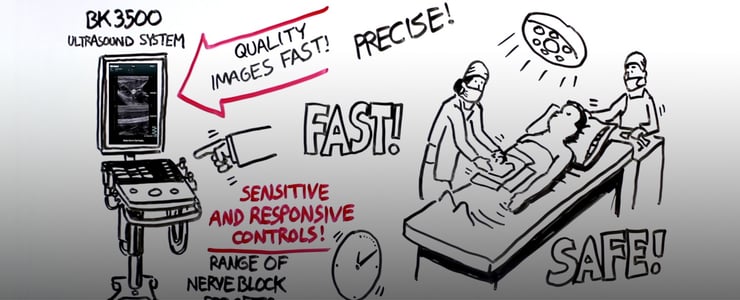 Dr. Hereford discusses how the bk3500 point of care ultrasound system helps him address some of the challenges he faces as an anesthesiologist. You may have found yourself in a situation similar to the one described below.
The Situation
Dr. Hereford is an associate professor of anesthesiology at an academic medical center. He has a number of fellows and residents in training and is trying to teach them how to provide their patients with the highest level of care. Right now, they are scheduled to perform a superclavicular block, but they are late. His resident is standing by waiting, the patient is prepped and ready, and the surgeon is ready and worried about falling behind schedule. The problem is that they can't get the ultrasound guidance they need. The hospital has only two ultrasound choices, and neither one is ideal.
Dr. Hereford's Options
The first choice is a basic system, compact, portable, and simple. It fits easily by the bedside, but its small menus make it difficult to use, and the image quality makes critical structures hard to identify. The second choice is a higher-end, more expensive system that has much better image quality, but is large and bulky. It has a long start-up time, is hard to move, and doesn't fit easily by the bedside. Additionally, the user interface controls are too complicated for someone who is not a trained sonographer. This means that his residents won't be able to train on it in a time-sensitive situation. Dr. Hereford needs an ultrasound system that is easy for his residents to learn, quick to use, compact, and has a high-quality image that enables sound decisions.
The Solution
Dr. Hereford needs the bk3500 ultrasound system. The bk3500 is compact and rugged, moves easily and fits in well by the bedside. Even with a dead battery, it starts up in 30 seconds. The workflow is straightforward, and entering patient information is easy with the bar code reader. The system also makes it easy to keep track of all the procedures the residents do. System adjustments can be made quickly and easily using the touch screen or the physical controls. Even with gloves or gel, the screening controls are sensitive and responsive. The bk3500 is a unique ultrasound system that is hassle free – easy to learn and easy to use, with premium image quality.
The Outcome
In under 10 minutes, Dr. Hereford walks his resident through a range of nerve block presets allowing her to get a quality image fast. Watch the video above to see the full outcome.
Visit our website to learn more about the bk3500 point of care ultrasound system for regional anesthesia.