Christopher C. Raio, MD MBA FACEP
Chairman, Department of Emergency Medicine, Good Samaritan Hospital Medical Center, West Islip, NY, USA Progressive Emergency Physicians
---
A 55-year-old male with a past medical history significant for gastroesophageal reflux disease and hypertension presented to the emergency department, complaining of severe abdominal pain and distention. The patient stated that the pain began to develop while attending a party the previous evening. The pain was sharp, greater in the upper-abdominal area, and worsened throughout the course of the night. On presentation at the emergency department, the patient was tachycardic, diaphoretic, and appeared to be in moderate distress, exhibiting diffuse abdominal tenderness. The patient was immediately evaluated by the emergency department team, placed on telemetry monitoring, intravenous access was gained and hydration initiated, and appropriate blood specimens were collected. The emergency medicine resident decided to perform a focused abdominal ultrasound to help elucidate the cause of the patient's undifferentiated acute abdominal pain.
The bk3500 ultrasound system was wheeled to the bedside. To initiate evaluation for biliary disease, the 9C2 high frequency curvilinear transducer was placed in the sagittal plane along the anterior abdominal wall in the right upper quadrant. The ultrasound revealed a hyperechoic enhancement of the anterior peritoneum, with posterior reverberation artifact (peritoneal stripe sign). The intraperitoneal free air obscured visualization of any abdominal organs at that location, creating "lungification" of the intraabdominal cavity (fig. 1). Utilizing the liver as an acoustic window, the emergency medicine physician was also able to localize suprahepatic reverberation artifact, confirming the diagnosis of free air (fig. 2).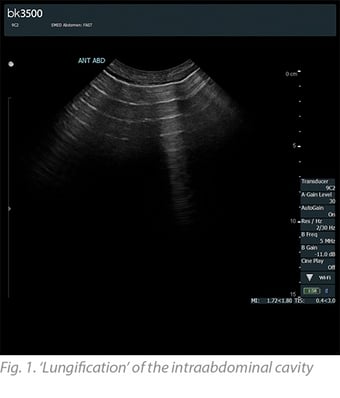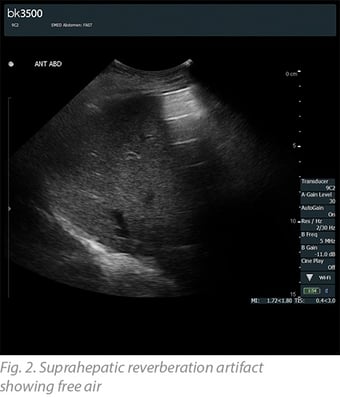 Point-of-care ultrasound is not commonly considered for the diagnosis of free intraperitoneal air. However, ultrasound's traditional benefits (rapid, portable, repeatable, no ionizing radiation) make it an ideal imaging modality. As technology has improved, ultrasound has now demonstrated high sensitivity and specificity for this critical diagnosis. The bk3500's intuitive, user-friendly touchscreen interface allowed the clinician in this case to access advanced imaging results within minutes. Its powerful imaging engine produced precise anatomic detail and resolution to provide diagnostic confidence for the emergency medicine resident. High frequency linear array transducers are often utilized to aid in detection of free air. However, the intra-abdominal performance of this high resolution 9C2 probe obviated the need to change transducers.
An immediate surgical consultation was obtained, intravenous antibiotics initiated, and hemodynamic optimization was aggressively pursued to prepare the patient for operative intervention. The patient ultimately required repair of a perforated ulcer and did well post-operatively.
Conclusion:
Free intraperitoneal air secondary to ruptured viscus is a life-threatening emergency, and improved ultrasound technology has contributed to its increased use to confirm this diagnosis. Hyperechoic enhancement of the anterior peritoneal line with posterior reverberation artifact is diagnostic. Free air will cast "dirty" shadows, often hiding intra-abdominal anatomy, and tiny hyperchoic foci (air bubbles) may also appear in the presence of free fluid within the abdominal cavity. Gentle transducer pressure and release may also provide more clear delineation of the air pockets. This case highlights the imaging power of the bk3500 ultrasound system. Even in the hands of a relatively novice user, the bk3500 provided outstanding imaging resolution and important clinical information used to rapidly mobilize resources for this critical patient